Bifengxia Giant Panda Base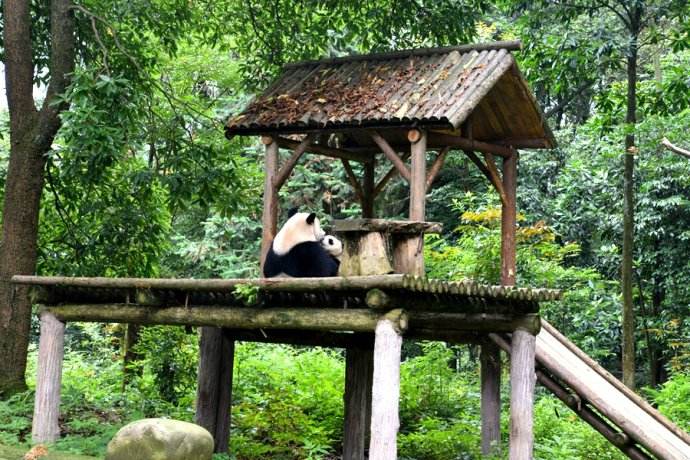 Introdution
Bifengxia Giant Panda Base is a giant panda research and breeding facility in Bifengxia Town, Ya'an, Sichuan, China.
History & Background
Since opening in 2004, it has become home to several more giant pandas. This includes the U.S.-born Hua Mei and Mei Sheng, who were relocated there after the May 12, 2008 Sichuan earthquake severely damaged the panda breeding center at the Wolong National Nature Reserve. Both facilities are managed by the China Conservation and Research Center for the Giant Panda.
Construction of the Bifengxia Panda Center at Ya'an City, Sichuan Province began in October of 2002. Before construction, the Bifengxia base was a maiden forest with no power, no road and no housing. Dr. Tang Chunxiang, Assistant Director and Chief Veterinarian, described the base as a "blank paper, waiting for great events to occur."
Like the Wolong center, the Bifengxia Giant Panda base is a branch of the China Conservation & Research Center for the Giant Panda, (CCRCGP) Wolong Nature Center, under the Department of Forestry. The Bifengxia center was completed in 2003 and covers nearly 400 hectares, which is about 988 acres.
Bifengxia was planned to house mostly sub-adults not yet in the breeding program and senior pandas, too old for breeding. However, a small breeding area was constructed in addition to the hospital.
Since Bifengxia has more land, the Giant Pandas are spread over several different areas: Leopard Mountain, New Leopard Mountain, Bai Xiong Ping, Bi Tang (quarantine area), the Kindergarten and nursery, breeding center, Research Center and Hospital. The enclosures are large with indoor and outdoor areas.
Before the earthquake of 2008, Bifengxia was still a small Panda Center with only 46 staff members.