Daci Monastery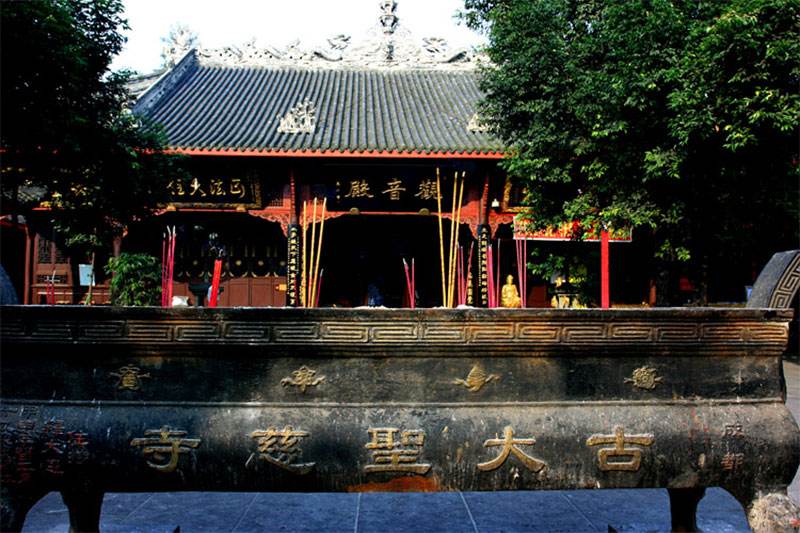 Introdution
"Chengdu Daci Monastery - Known as the Nonpareil Monastery in China, the Daci Monastery in downtown Chengdu was first built during the Wei and Jin dynasties, with its cultural height during the Tang and Song dynasties. Xuan Zang, an eminent Tang dynasty monk, was initiated into monkhood and expounded Buddhism sutras for 4-5years in this temple. During this time, he gave frequent sermons in Daci Monastery."
History & Background
Daci Monastery was another stop in our itinerary. Situated in the middle of Chengdu, it is the largest Buddhist monastery at the time when it was built (622 AD). It was in this temple that Master Xuan Zang (三藏法师玄奘) was initiated into monkhood.

Construction work
In 2014 there was contruction work around Daci Temple. Large pits were dug for new buildings. A large part of the garden was disappeared. I guess that the site will be much smaller when the work has been completed.
Information

Location
Daci monastery is located in Dacisi Road in the centre of Chengdu. Nearby is Chunxi Road. Opposite Chunxi Road is the Wangfujing Mall.
Address: 23 Dacisi Road, Jinjiang District
Opening: 08:00-17:30
Ticket price: RMB3/person
Traffic: Take bus No.4 & 58 to directly get there