Daocheng Three Holy Mountains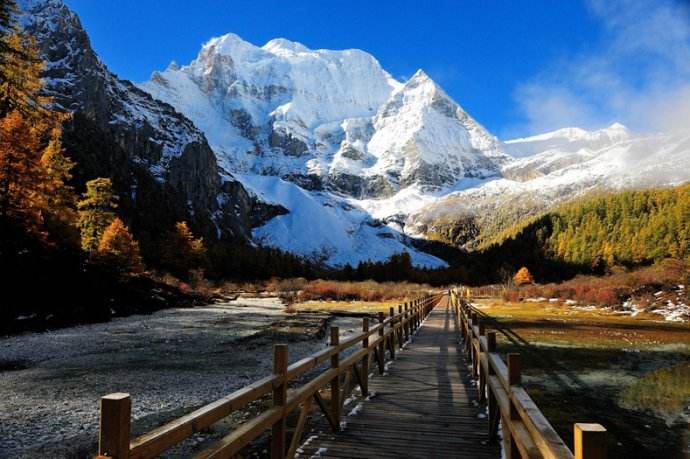 Overview
Honored as the "last pure land on our blue planet", Daocheng Yading Nature Reserve was first introduced to the world when the famous American
The most important spots in the scenic area are the three sacred snow-clad mountains, Mts Chenrezig, Jambeyang and Chanadorje. They are completely separated from each other, but within a short distance, forming the shape of a triangle. The three mountains are worshipped as embodiments of three Bodhisattvas: the Bodhisattvas of Mercy, Wisdom, and Power, respectively. Local Tibetans believe that the three holy mountains protect them and if one sincerely makes pilgrimages to the three mountains, his wishes will come true.
Note
Mt. Chenrezig (Xiannairi), with an altitude of 19,790 feet (6,032 meters), is the highest peak in Daocheng County. The whole peak takes the shape of an honorable Buddha who is leaning back. The Buddha, often regarded as the Bodhisattva of Mercy, sits in a lotus seat, with a giant pagoda in her arms. When the sun shines, the whole mountain is draped in a veil of golden light, presenting a really magnificent view. Waterfalls arising from snow-capped peaks rush down the hillside. Grasses, lakes, and forests display the mountain at its best. Pearl Lake (Zhenzhu Hai), at the foot of Chenrezig, and believed to be the cosmetic mirror of fairies, is an excellent spot to admire the mountain. On sunny days, you can see the reflection of Chenrezig on the lake surface.
Mt. Jambeyang (Yangmaiyong) has an elevation of 19,547 feet (5,958 meters) and presents a holy, white appearance, very much like a pure and dignified maiden. From a distance, the lofty peak towers up into the clouds, as if the Bodhisattva of Wisdom is pointing at the sky with a sharp sword.
Described by Joseph F. Rock as a huge bat spreading its wings and the God of Thunder in Greek mythology, Mt. Chanadorje (Xianuoduoji) rises against the skyline. As high as Mt. Jambeyang, it is in the shape of a triangular pyramid, grand and precipitous, just like a handsome young man.