Yading Nature Reserve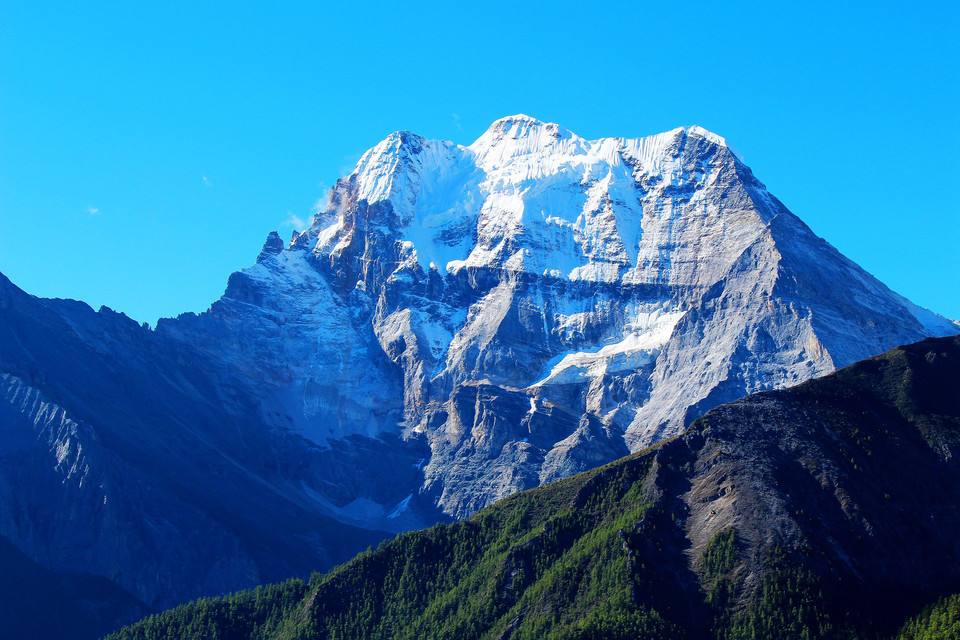 Overview
Yading is a national level reserve in Daocheng County, in the southwest of Sichuan Province, China.
The reserve covers an area of 1,344 square kilometers (134,400 hectares), with Chenrezig being its highest peak at 6,032 meters above sea level. It is known as one of China's oldest and best-preserved alpine ecosystems. The reserve's particular geographical environment, in addition to its alpine springs, carries with it a rather humid climate with rich vergetation covering the land, creating unique scenic sights.
It is a mountain sanctuary and major Tibetan pilgrimage site comprising three peaks sanctified by the 5th Dalai Lama. The peaks are seen as emanations of the three boddhisatvas Chenrezig, Jampayang and Chenadorje, with Chenrezig being the highest peak at 6032 meters above sea level. It is served by Daocheng Yading Airport.
Highlight
Yading's amazing scenery has won itself the titles of "the last Shangri-La" and "the last pure land on the blue planet." In October, red, yellow and green trees form a dazzling autumn vista at Yading Nature Reserve Park, which is now attracting a host of visitors seeking "the last Shangri-la" in China. Beauty has its price. Perched on the 4,000-meter-high plateau in western Sichuan Province, Daocheng County's brilliant vistas come at the price of a difficult journey at high altitudes, along rutted mountain roads and across endless wind-swept plains.
There are no airports or railways, just a winding road that's constantly under repair and more closely resembles a roller-coaster ride: The road passes through a 4,176-meter-long tunnel through Erlang Mountain and skirts several 4,000 to 5,000-meter-high snow-capped mountains. If the road is passable and the vehicle you are traveling in is in good working order, it is a bumpy two-day plus trip from Chengdu, the provincial capital, to Daocheng, which is near the Sichuan-Tibet border -- during which one invariably develops a throbbing headache from the altitude. But its remote location and the daunting journey to get there have kept the hordes away, allowing Daocheng to maintain its pristine beauty.
Where to stay in Yading
In Yading Village, there are several very basic Tibetan-style guesthouses to stay at that have clean rooms and serve basic Tibetan and Chinese dishes. There are no hotels or guesthouses beyond Yading Village.
Where to camp for trekkers
The only place to camp is past Milk Lake on the back side of the First Col. It is not possible to camp at Chong Gu Monastery, Luorong Grasslands, Milk Lake or anywhere else before the First Col. This means you will need to set up camp on the BACK side of Yading, quite far from the main entrance. Read further down this post for a detailed trekking guide as well as my recommendation on where to camp.'
Information
Admission: 150 yuan (US$23.7)/person