Mount Emei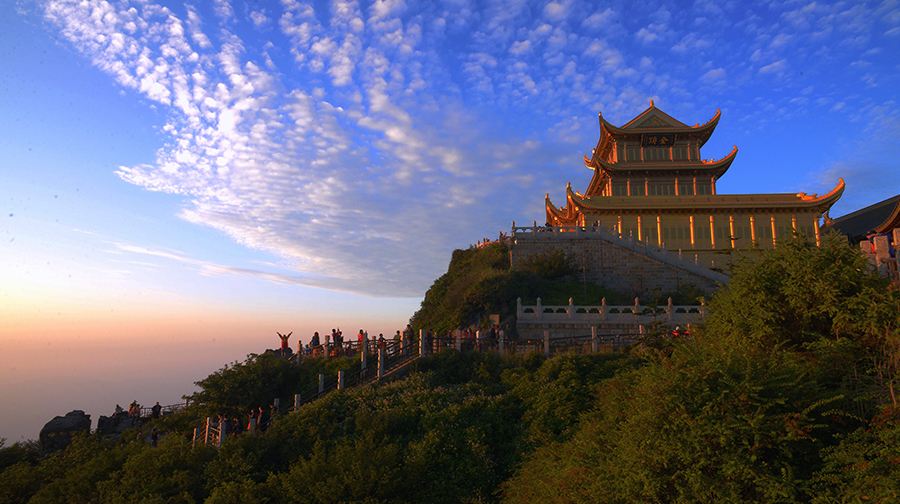 Overview
Mount Emei is a mountain in Sichuan Province, China, and is one of the Four Sacred Buddhist Mountains of China. Mt. Emei sits at the western rim of the Sichuan Basin. The mountains west of it are known as Daxiangling. A large surrounding area of countryside is geologically known as the Permian Emeishan Large Igneous Province, a large igneous province generated by the Emeishan Traps volcanic eruptions during the Permian Period. At 3,099 metres (10,167 ft), Mt. Emei is the highest of the Four Sacred Buddhist Mountains of China.
Administratively, Mt. Emei is located near the county-level city of the same name (Emeishan City), which is in turn part of the prefecture-level city of Leshan. It was made a UNESCO World Heritage Site in 1996.

Highlight

As a sacred mountain
Mount Emei is one of the Four Sacred Buddhist Mountains of China, and is traditionally regarded as the bodhimaṇḍa, or place of enlightenment, of the bodhisattva Samantabhadra. Samantabhadra is known in Mandarin as Pǔxián Púsà (普賢菩薩).
Sources of the 16th and 17th centuries allude to the practice of martial arts in the monasteries of Mount Emei made the earliest extant reference to the Shaolin Monastery as Chinese boxing's place of origin.

Buddhist architecture on Emei
This is the location of the first Buddhist temple built in China in the 1st century CE. The site has seventy-six Buddhist monasteries of the Ming and Qing period, most of them located near the mountain top. The monasteries demonstrate a flexible architectural style that adapts to the landscape. Some, such as the halls of Baoguosi, are built on terraces of varying levels, while others, including the structures of Leiyinsi, are on raised stilts. Here the fixed plans of Buddhist monasteries of earlier periods were modified or ignored in order to make full use of the natural scenery. The buildings of Qingyinge are laid out in an irregular plot on the narrow piece of land between the Black Dragon River and the White Dragon River. The site is large and the winding foot path is 50 km (31 mi), taking several days to walk.
Cable cars ease the ascent to the two temples at Jinding (3,077 m), an hour's hike from the mountain's peak.

Sunrise and clouds sea
Great spectacles of Mount Emei include the sunrise and Clouds Sea seen from the Golden Summit of the mountain.
The sunrise is very varied, but optimally begins with the ground and sky being in the same dark purple, soon showing rosy clouds, followed by a bright purple arc and then a semicircle where the sun is coming up.

The Clouds Sea includes several cloud phenomena, e.g. clouds appearing in the sky above, in addition to the regular clouds beneath.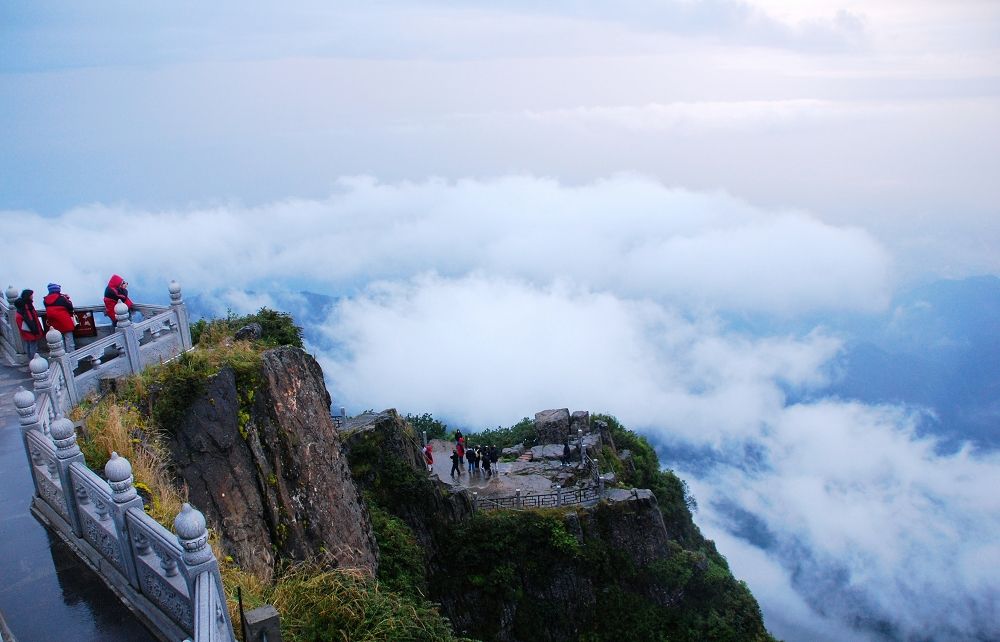 Information
Admission: 150 yuan (US$23.7)/person (summer);
90 yuan (US$14.22)/person (winter)