Sichuan Xiling Snow Mountain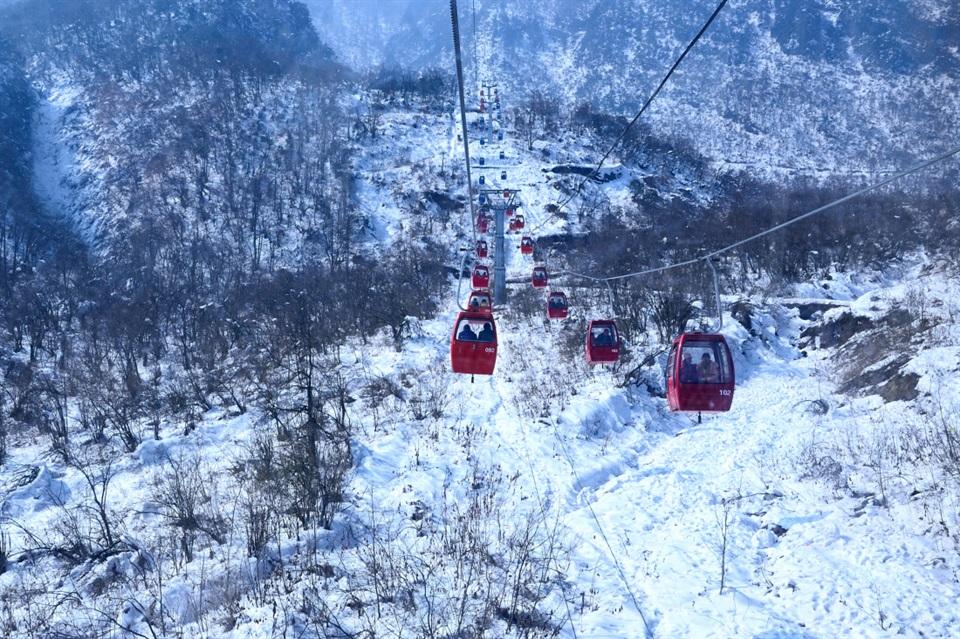 Introdution
While it is commonly held that snow is rarely seen in south China, we invite you to buck the conventional wisdom by visiting the Xiling Snow Mountain in southwest China's Sichuan Province. On sunny days, looking out from the capital of Chengdu will offer you a vista of lofty peaks joining the blue sky.
With a height of over 5,000 meters above the sea level, the snow mountain at Xiling is the highest mountain in Chengdu city. Its fame rose as famous poet, Du Fu, from the 700s AD, depicted its enthralling snow scenery in one of his most well-known poems. Until today, the charm of the poem has attracted countless tourists home and abroad to venture into this miraculous snow world.

Highlight
Xiling Snow Mountain has the longest tram rail – some 2,500 meters - in China. A tour on the tram allows you to enjoy the unadorned natural scenery, including fantastic scenic spots like the Cloud Sea, sunrise at Snow Mountain, and lots of unique sceneries which can only exist at such an altitude. Plant life varies as the tram goes higher, so it seems for tourists like going through the four seasons.
In fact, Xiling has different attractions all year round: enjoying flowers in spring, sliding grass in summer and maple trees in autumn, but the snow in winter is definitely the best reason of all to visit. A perfect trip to Xiling will be paired with dip in the hot springs of Huashuiwan after a day of hiking or skiing.
Scenic spots at Xiling Snow Mountain:
1. Xiling Ski Resort
With an altitude of over 2,200 meters, it is the largest and best-facilitated ski resort on mountain in China.
2. Yinyangjie (Boundary of Yin and Yang)
Yinyangjie is a watershed dividing the different climates in Xiling. The west is the cold and dry Qinghai-Tibet Plateau climate, while the east side is home to warm and humid basin climate. Therefore, seen from afar, you will see a blue sky at one side, cloudy and foggy world at the other side.
3. Guanyuntai (Outlook for Watching Clouds)
Take the tram to Riyueping (Sun and Moon Grassland), and then walk to Guaishilin (Bizarre Stone Forest) and from there you can see Guanyuntai. It is the best location to watch the ever-changing rolling Cloud Sea.
4. Panda Forest
Xiling is a natural habitat for pandas due to its pleasant climate and rich forest. The chances of coming across a panda are high at Panda Forest. Besides, you may find the winding journey through the forest quite rewarding since a lot of precious plants are hidden deep inside.
Information
How to get there:
There are shuttle buses in Chengdu that go to the Xiling Scenic Zone.