Dali Old Town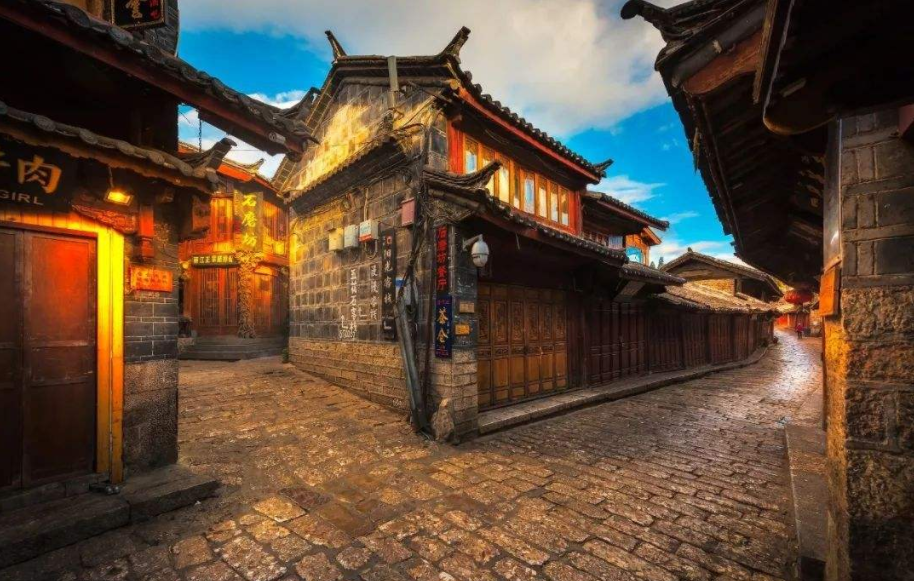 Introdution
Dali Old Town, first built in Ming Dynasty, is a historic town with rich culture. It is also the ancient capital of Nanzhao Kingdom and Dali Kingdom. Now, it is the treasure land of Bai ethnic minority showing their traditions and culture.
Compared to Lijiang Old Town (Dayan Gucheng), Dali Old Town is less crowded and more elegant and comfortable. Travelers can make a nice walking tour through Bai ethnic architecture stopping at shop after bar after cafe after tea shop. There are some nice temples, old courtyard home-turned-hotels, cafes, shops and bars. The city gates are something to see, especially at night when lit up.
Layout & Function
The existing Dali Old Town is formed the square-shaped structure, laid out on a typical north-south, east-west axis. There are four main city gate towers (that were once the only portals into the city through the wall) on each of the axes. In the old town, there are five north-south streets and eight east-west streets. All the streets in the old town give a feeling like chessboard.
Main Attractions in Dali Old Town

Old City Gate Towers
The city gate towers stand each side of the old city like the soldiers protecting the old town. The six city gate towers include Wenxian Tower, South Gate, North Gate, Cangshan Gate, Erhai Gate and Wuhua Tower.
Wenxian Tower
Wenxian Tower is called "The First Gate of Dali Old Town". In the reign of Kangxi in Qing Dynasty (1701), the chief commander of Yunnan Province named Piantu inscribed "A Historic Town with Rich Culture" (文献名邦) and hence the tower got the name.
South Gate
South Gate is also called Double Crane Tower or Cheng'en Tower, with a history over 600 years. This gate is the oldest building of Dali Old Town and become the symbol of the ancient town. The inscription "Da Li" on the city wall was inscribed by Guo Moruo, a famous modern Chinese writers.
Wuhua Tower
Wuhua Tower was first built in the year of 856 in Nanzhao for gathering and meeting. This symbolic architecture has five storeys offering a panoramic view of Dali Old Town, Cangshan Mountain and Erhai Lake.
North Gate
The North Gate is called Anyuan Gate or Santa Gate which was first built in 1382. North Gate is the closest gate to Three Pagodas of Dali, about 1.5 kilometers away. Standing on the North Gate, travelers can have a look at Three Pagodas from afar.
Cangshan Gate
Cangshan Gate is the West Gate, also called Yongzhen Tower. It is about 2 kilometers from Cangshan Gate to Tianlongbabu Film Studio and Cangshan Mountain.
Erhai Gate
Erhai Gate is the East Gate, also called Tonghai Tower. It is about 5 kilometers from Erhai Gate to Longkan Pier of Erhai Lake.
Information
How to get there:
From Dali Airport: It is about 30 km from Dali Airport to Dali Old Town. There are airport shuttle running between the airport to Dali Old Town. The drive takes about 40 minutes. If by taxi, it may cost around 80~100 Yuan.
From Dali Railway Station: It is about 26 km from Dali Railway Station to Dali Old Town. Travelers can take No.8 bus outside of the railway station to Dali Old Town, which takes about 40 minutes. If by taxi, it may cost around 50 Yuan.