Dengchigou Church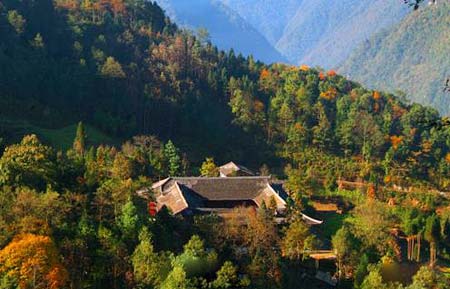 Introdution
Dengchigou Church is located in Fengtongzhai Town in the transitional zone between Chengdu plain and Qinghai-Tibet Plateau, about 28 kilometers east of Baoxing County, Sichuan. Here offers people a picturesque scene with mountains rising straight up, ravines and gullies crisscrossing and territory vastly stretching, and also enjoys a pleasant and comfortable climate. Moreover, there are thick virgin forests and many valuable and rare wild animals. This Catholic Church, founded in 1839, is one of the earliest churches which were built in secret in Sichuan by those sent by French Far East Church.
History & Background
From far away, the Catholic Church presents as a wooden quadrangle courtyard of Western Sichuan style, but gives a European gothic conception when people visit inside. It is a unique building of both French architectural style and Sichuan architectural culture. The Church, integrating Chinese and Western style, is a two-storey building comprised of 36 wood-frame rooms. Its marvelous features such as alternating light and shade, surrounding fences, carved beams, painted rafters, eight individual columns propping up the ancient Romanesque chapel, arch vault and carved windows all bring us a great sense of classic simplicity and serene, and attach it with high archaeological significance and artistic value. Despite the wear and tear by so many years' wind and rain, it is still the best reserved ancient church building with the longest history and all-wood frame in Ya'an and even in Sichuan. It is tall and majestic, built with two exquisitely-curved festoon columns under the internal and external eaves around, and with the circular arches, curved lattice windows, rigorous, and closed layout inside.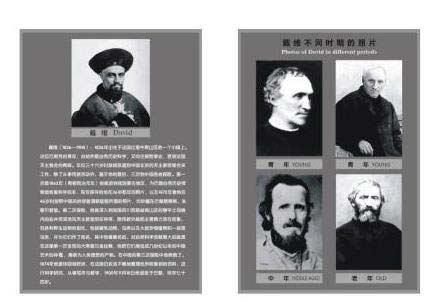 The Church has been carrying out religious activities presided over successively by French priests and Chinese priests. Armand David, who is the fourth priest of the Church, a famous member of Academy of Science and also a distinguished biologist in France, came to China in 1862 and to Baoxing in 1869. In the same year, he discovered a large number of legendary wild floras and collected dozens of type specimens of such animals and plants as panda, golden monkey, Chinese Monal, dove tree, large amphibious and Amphizoa davidi lucas, etc. near the Church, which were taken by him to Paris for exhibition and caused a great sensation across the world. Up to now, there are still many specimens kept in National Museum of Paris. That's why Baoxing Dengchigou Church in the western mountainous area of Sichuan is known all over the world.