Jiuzhaigou Valley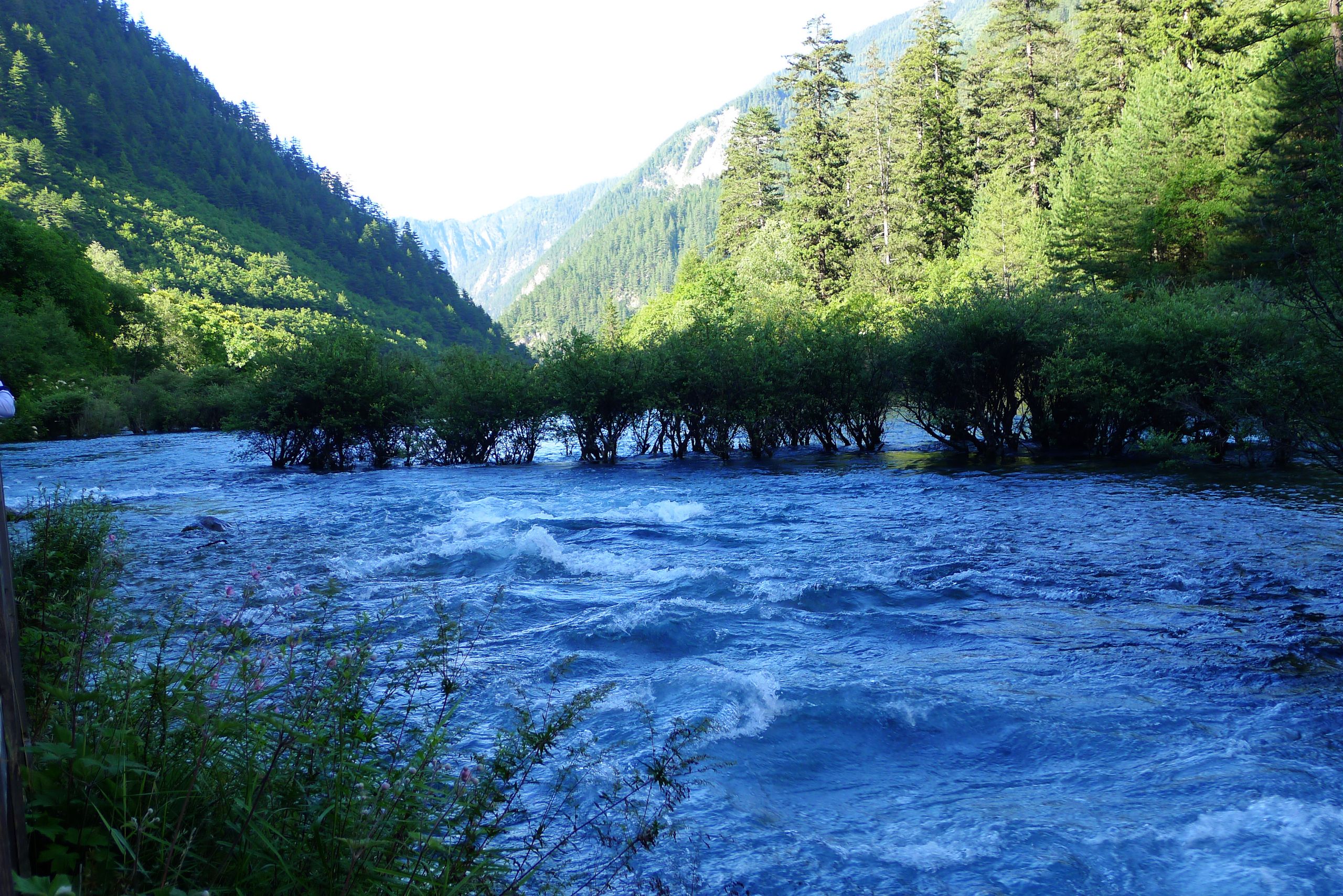 Overview
Jiuzhaigou is a nature reserve and national park located in the north of Sichuan Province in the southwestern region of China. A long valley running north to south, Jiuzhaigou was inscribed by UNESCO as a World Heritage Site in 1992 and a World Biosphere Reserve in 1997. It belongs to the category V (Protected Landscape) in the IUCN system of protected area categorization.
The Jiuzhaigou valley is part of the Min Mountains on the edge of the Tibetan Plateau and stretches over 72,000 hectares (180,000 acres). It is known for its many multi-level waterfalls, colorful lakes, and snow-capped peaks. Its elevation ranges from 2,000 to 4,500 metres (6,600 to 14,800 ft).
History & Background
Jiuzhaigou takes its name from the nine Tibetan villages along its length.
The remote region was inhabited by various Tibetan and Qiang peoples for centuries. Until 1975 this inaccessible area was little known. Extensive logging took place until 1979, when the Chinese government banned such activity and made the area a national park in 1982. An Administration Bureau was established and the site officially opened to tourism in 1984; layout of facilities and regulations were completed in 1987.

The site was inscribed by UNESCO as a World Heritage Site in 1992 and a World Biosphere Reserve in 1997. The tourism area is classified as a AAAAA scenic area by the China National Tourism Administration.

Since opening, tourist activity has increased every year: from 5,000 in 1984 to 170,000 in 1991, 160,000 in 1995, to 200,000 in 1997, including about 3,000 foreigners. Visitors numbered 1,190,000 in 2002. As of 2004, the site averages 7,000 visits per day, with a quota of 12,000 being reportedly enforced during high season. The Town of Zhangzha at the exit of the valley and the nearby Songpan County feature an ever-increasing number of hotels, including several luxury five-stars, such as Sheraton.

Developments related to mass tourism in the region have caused concerns about the impact on the environment around the park.
Weather & Climate
Jiuzhaigou is about 3000 meters above sea level, belonging to the humid climate of the plateau. The temperature of Jiuzhaigou in spring is lower and the change is bigger,the average temperature is between 9 and 18 ?, the weather will be gloomy and cold. In the summer, the temperature of Jiuzhaigou rapidly and stably. The average temperature is 19-22 ?, and it is cool at night. Jiuzhaigou's autumn is same as the spring in Chengdu, the average temperature is 20?. It is recommended to wear shirts, long skirts and thin sweaters, windbreakers, casual clothes, jackets, suits, etc. Jiuhaigou's winter is relatively warm, but the warm clothing in winter is still necessary.
Population
Seven of the nine Tibetan villages are still populated today. The main agglomerations that are readily accessible to tourists are Heye, Shuzheng and Zechawa along the main paths that cater to tourists, selling various handicrafts, souvenirs and snacks. There is also Rexi in the smaller Zaru Valley and behind Heye village are Jianpan, Panya and Yana villages. Guodu and Hejiao villages are no longer populated.
Penbu, Panxing and Yongzhu villages lie along the road that passes through the town of Jiuzhaigou/Zhangza outside the valley.

In 2003, the permanent population of the valley was about 1,000 comprising 112 families, and due to the protected nature of the park, agriculture is no longer permitted so the locals now rely on tourism and local government subsidies to make a living.

Transportation
Due to the unique geographical location of Jiuzhaigou, you can get to Jiuzhaigou by flight, by car or by long-distance bus (there is no railway station in Jiuzhaigou).
By Flight
Jiuzhai Huanglong Airport is a plateau airport, 88 km away from Jiuzhaigou scenic spot and 43 km away from Huanglong. It was completed and opened to navigation on September 26, 2003. The flights from Chengdu to Jiuzhaigou are different every day. Please check before you leave. The normal flight time is one hour.
By Bus
Chengdu-Jiuzhaigou Bus
Tourists can choose to take the bus to Jiuzhaigou at Chengdu Chadianzi bus station or Xinnanmen bus station. The departure time is 08:00 a.m. (at present, the number of buses from Chengdu to Jiuzhaigou will be adjusted according to the number of tourists, and it will be different every day. When you go to Jiuzhaigou, you can buy a good ticket one day in advance). The ticket price is 141 yuan usually, and the whole journey takes about 10 hours.
Chadianzi bus station
Address: Yangxi overpass, North Third Ring Road

Nanmen bus station
Address: intersection of Linjiang middle road and Xinnan Road, Wuhou District
Public Transportation
1. Sightseeing Bus
Sightseeing buses provided in Jiuzhai Valley brings lots of convenience for visitors. These buses start from the entrance gate of the valley and stop at main attraction sites inside the valley. A round trip inside the valley usually takes about 130 minutes.
2. Taxi
Taxis in Jiuzhaigou County is CNY4-6 for the first 2 kilometers (1.2 miles) due to the different car types. Only a few drivers would use the taximeter.
3. On foot
If tourists would like to get closer to the charming scenery in the Jiuzhaigou Valley, then walking provides the perfect opportunity to do so.
Tourism
The Zharu Valley (???) runs southeast from the main Shuzheng gully and is rarely visited by tourists. The valley begins at the Zharu Buddhist monastery and ends at the Red, Black, and Daling lakes.
Zharu Valley is the home of tourism in Jiuzhaigou. The valley has recently been opened to a small number of tourists wishing to go hiking and camping off the beaten track. Visitors can choose from day walks and multiple day hikes, depending on their time availability. Knowledgeable guides accompany tourists through the valley, sharing their knowledge about the unique biodiversity and local culture of the national park. The Zharu Valley has 40% of all the plant species that exist in China and it is the best place to spot wildlife inside the national park.

The main hike follows the pilgrimage of the local Benbo Buddhists circumnavigating the sacred 4,528 m Zha Yi Zha Ga Mountain.
What to pack before visit Jiuzhaigou Valley
Rain shelter: raincoat, rain mirror, umbrella.
Sunscreen: sunscreen, sun umbrella.
Clothing: coat, sweater, sweater. Flat shoes.
Drugs: hemostatic drugs, oxygen bags, iodine, medical cotton swabs.
Jiuzhaigou Travel Routes
1)Shuzhenggou Valley?Bonsai Beach?Reed Lake?Spark Lake?Wolong Lake?Shuzheng waterfall?Rhinoceros Lake?Tiger Lake?NuoRiLang waterfall
2)Zharugou Valley?Zharu Temple?Zechawagou Valley?Lower season Lake?Multicolored pool?
ChanghaiRizegou Valley?Jinghai Lake?Pearl Beach?Pearl Shoal Waterfall?Wuhua Lake?Panda Lake?
Arrow Bamboo Lake?Jianzhuhai waterfall?Swan Lake?Virgin forest
Jiuzhaigou Travel FAQs
1. Could you let me know when is the best time to visit Jiuzhaigou? My family of 4 plan to travel to Jiuzhaigou in July next year.
Jiuzhaigou can be visited all year around, but the best time to visit Jiuzhaigou is late spring and autumn. At this time, the water resource is very adequate, you can also enjoy the dense forests, flowing waterfalls and beautiful lakes in sunny days. Different season in Jiuzhiagou with different scenery. If you plan your Jiuzhaigou tour in summer, it's a rainy season but you can feel the cool weather there. Generally, Jiuzhaigou is ideal place for the summer resort.
2. Is there any direct flight from Shanghai to Jiuzhaigou? I will visit there after Shanghai tour.
There is no direct flight from Shanghai to Jiuzhaigou, you need to transit in Xi'an, Chengdu or Chongqing. We highly recommend you visit Jiuzhaigou from Shanghai via Chengdu. It is convenient from Chengdu to Jiuzhaigou by flight, bus or car rental. It takes around 3 hours from Shanghai to Chengdu by flight and another 1 hours' flight to Jiuzhaigou.
3. I am planning a trip to visit Chengdu and Jiuzhaigou, how many days should planned for Chengdu Jiuzhaigou tour?
We suggest you plan at least 6 days for a Chengdu and Jiuzhaigou tour. You spend 3 days to visit the highlights of Chengdu such as Panda Base, Jinli Street, Renmin Park, Leshan Giant Buddha and others. Then, travel to Jiuzhaigou for 3 days from Chengdu by flight, you can enjoy the fairyland beauty of Jiuzhaigou - turquoise & emerald crystal lakes, layered waterfalls, authentic Tibetan villages and soaring peaks.
4. How can i travel from Chengdu to Jiuzhaigou by bus? How much is the bus ticket?
You can take direct bus to Jiuzhaigou from Chengdu Caidianzi bus station and Xinnanmen bus station. It takes around 9 hours by bus from Chengdu city. The ticket can be purchased at Xinnanmen Bus Station and Chadianzi Bus Station. You'd better buy the ticket one day in advance. The ticket fee is CNY157 per ticket.
5. My parents want to make a Chengdu side trip to Jiuzhaigou? Do you offer Jiuzhaigou private tour for them?
Yes, we offer lots of Chengdu side trips to Jiuzhaigou. We can arrange the Jiuzhaigou priavet tour only for your parents, feel free to let us know their special requirements, such as hotels, meals, duration of the tour and others. Flexible to choose travel to Jiuzhaigou from Chengdu by flight or private vehilce with our professional and patient tour guide. We make a customized Jiuzhaigou tour based on their needs.
6. What are the typical food should we eat during our stay in Jiuzhaigou?
When you travel to Jiuzhaigou, you will have chance to taste the three main kinds of cuisine there. One is the Tibet cuisine consisting of smoked and roast meat as well as highland barley alcohol, tibet butter tea, acidophilus milk. Another one is the sour and hot dish of Qiang minority. The last one is Sichuan Cuisine of Han people.
7. I heard about there are some Tibetan villages in Jiuzhaigou, are there any taboos we have to pay attention to in Jiuzhaigou?
Yes, there are some tibetan people live around Jiuzhaigou scenic area. There is a saying "Do as the locals do", you are advised to pay attention to when you visit a Tibet family, such as don't step over any religious tool and brazier, do not touch the Tibetan people's head, you should consult and follow their customs if you are invited to have a drink with the local Tibetan.
8. Could you advise me what are the popular things to do in Jiuzhaigou? As i'm a first time traveler in Sichuan.
Jiuzhaigou is one of the popular tourist destinations in Sichuan and an UNESCO heritage site. When you plan to travel to Jiuzhaigou for the first time, you should explore the Jiuzhaigou valley to visit the waterfalls, lakes, forests; Spend a day tour visit Huanglong National Park boasts a series of calcite pools, which offers a different kind of beautiful water view; What's more, you should make a visit to the local Tibetan Villages and Temples, while most people come to Jiuzhaigou for the lakes, the temples and local villages are full of culture and history.
9. Is it difficult to hike in Jiuzhaigou? We are a couple over 70 years old from the United States.
Generally, it is fine to hike in Jiuzhaigou but it could cause some problems for the less mobile! The large majority of Jiuzhaigou has a man-made walkway, making it accessible for almost everybody. Many of the areas have no handrail, so beware that it can get very pushy at times! Also needing consideration is the fact that Jiuzhaigou is at high altitude. To combat altitude sickness, make sure you're drinking plenty of water and if you feel as if you're too high, go down! You can hire a local tour guide, he/she will choose the best hiking route for you.
10. I will take flight from Chengdu to Jiuzhaigou on my own, could you please let me know how to get to Jiuzhaigou Valley from Huanglong airport?
Jiuzhaigou Huanglong Airport is located Songpan Town, about 90KM far away from Jiuzhaigou scenic area. There are several options you can choose how to travel to Jiuzhaigou from airport, such as airport shuttle bus, taxi and car rental. The airport shuttle bus takes about 1.5 hours and costs 45 yuan for a single trip, and 80 yuan for a round trip, but it is out of service after 17:00; Taxi is a good choice if you do want to take airport shuttle bus or the bus after working hours, it takes around 1.5 hours and costs 150 yuan; Car rental is highly recommeded for you if you confused about the public transportation, it's an expensive way but you can enjoy a hassle free service.