Huashuiwan Hotspring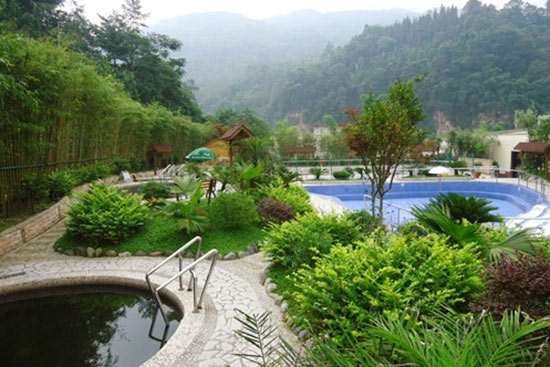 Introdution
Huashuiwan Hotspring is located in the the west of Dayi County, Sichuan Province. Its natural geothermal mineral water with unique value is the only large-scale hot mineral water in Chengdu achieving the value of medical thermal mineral water. It boasts large flow, high water temperature and high water quality with good medical value. Based on spa treatments, Huashuiwan has become the large-scale tourist resort with the shortest distance from metropolises. It has a total area of as large as 135,000 square kilometer.
With the distinction of four seasons, no scorching in the summer or no frigidity in the winter, and an annual average temperature of about 16.3 ℃, the Town of Huashuiwan can be categorized as subtropical monsoon climate with high humidity. Its average annual sunshine reaches 1050 hours and the average annual rainfall is about 960 mm.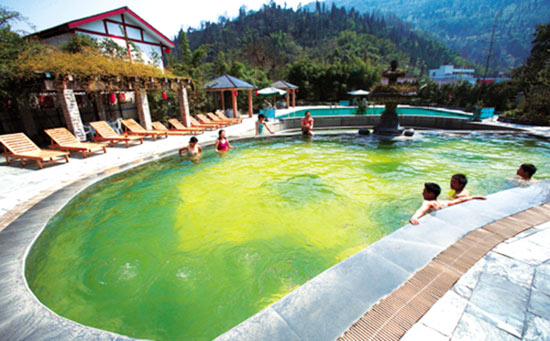 The hotspring well of Huashuiwan Town is with a depth of 2886 meters, a storage capacity of 200 million cubic meters and an outlet water temperature of 68 ℃. Its average temperature is slightly higher than the body temperature and therefore can be directly used as a bath. The spa is rich in iodine, radium, lithium, strontium, fluorine, oxygen, weakly alkaline chloride, sulfate, sodium and other trace elements. It brings a series of functions: health treatment, health protection, disease prevention and treatment, in addition to recovery from fatigue effect. The daily supply of spa water is more than 8400 cubic meters and the town has a forest coverage rate of higher than 80%, with beautiful mountains and fresh air, literally a natural oxygen bar. Within the town, Xiling Snow Mountain has a total area of 25 square kilometers, which spans over three climatic zones, with clarity in the chain of mountains and vast woodlands. Within the area, there are davidia involucrata, ginkgo and other rare plants and golden monkeys and other rare animals; not to mention large natural caves, cliffs, rocks, and numerous rare plants.