Wolong Panda base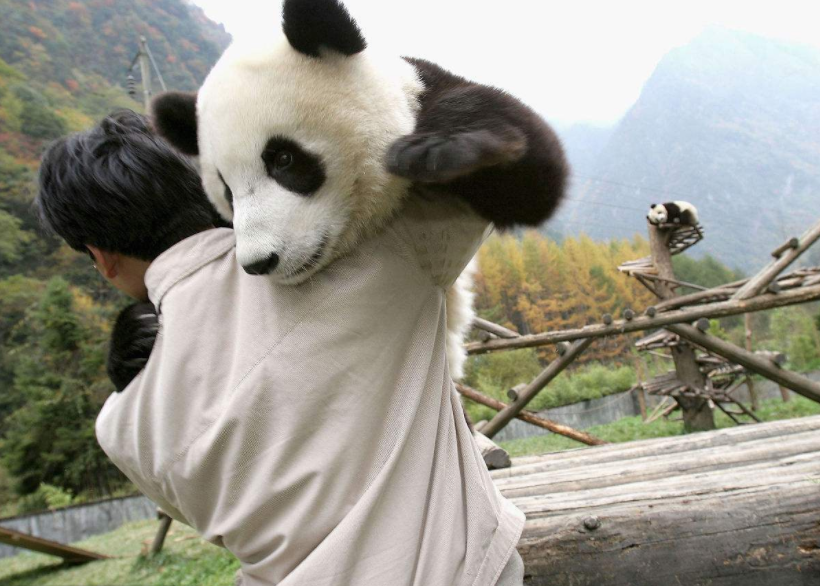 Introdution
Wolong Giant Panda Reserve (Shenshuping Panda Base), the largest breeding center for giant pandas worldwide, is open for the feeding, breeding, reproduction, wildness trainings and scientific studies of giant pandas. Panda lovers can visit pandas, be panda volunteers, contact pandas, and enjoy outdoor trekking activity, etc.
History & Background
Wolong Giant Panda Reserve, belonging to the Wolong National Nature Reserve that is reputed as the "Panda Kingdom" and "Gene Pool of Precious Flora and Fauna", is home to about 60 percent of the world's total panda population. Standing about 1700 meters above the sea, Wolong Giant Panda Reserve is the world's largest breeding center for the giant pandas with more than 30 captive pandas.
Since the severe big earthquake occurred in Wenchuan in 2008, the original Hetaoping Panda Base (核桃坪熊猫基地) was destroyed. To protect the precious giant pandas, government of Hong Kong Special Administrative Region endowed to build the new panda base at Gengda Township (耿达镇) and called it Shenshuping Panda Base under the China Conservation and Research Center for the Giant Panda (CCRCGP) (中国大熊猫保护研究中心耿达神树坪基地). With the total area covering 150 hectares, Shenshuping (神树坪) Panda Base, or Gengda Wolong Panda Center is mainly divided into three areas for the different functions, namely the visiting area for captive panda, wild training area and reintroduction area. With rich types of facilities like 59 panda enclosures, tourist center, scientific research center, science education center, veterinary hospital, etc. Wolong Panda Reserve is at present the largest, most dynamic and self-sustaining base for giant pandas around the whole globe.
Besides, the more natural surrounding and harmonious environment for giant pandas enable Wolong Panda Base the top place for panda lovers to visit giant pandas, get more fun with the chubby animals and learn more about the national treasure in China.
Highlighting Experience for a Panda Volunteer
1. Panda cleaner: clean the giant panda's house, move the bamboos left out of the house and dump the poop of the giant pandas, which is the best way to know about the daily like of pandas, understand their living environment and experience of taking care of giant pandas really closely. This section takes about 1 hour and 20 minutes.
2. Feeding panda: feed the adorable giant panda in person with carrot, cakes, and other their favorite food to learn what their diet is like. Meanwhile, observe their eating moment with a close distance and build trust with them. It lasts for about 30 minutes.
3. Panda nutritionist: learn how to make the cakes of giant pandas and have a better understanding about why they favor it so much. The cake making activity takes about 20-30 minutes.
4. Panda science education: at the panda science education center, find out all the scientific mysteries about the giant pandas and learn how we can do to protect these precious species on our planet earth. This section takes about half an hour.
5. Visiting area of panda breeding: enter the area of panda breeding to visit more lovable giant pandas and learn more knowledge about them. Good time for photographs.
6. Panda lecture: join the panda lecture to learn more facts about giant pandas, listen to some interesting stories between the experts and pandas, and know more deep knowledge about giant pandas.
7. Panda theater: watch the interesting movie about panda, understand why giant panda is known as living fossil, know the process of the wild training and reintroduction of giant pandas, and learn about the stories of human beings living in harmony with them. The theater is arranged for about 1 hour.
8. Panda certificate & panda badge: after the panda volunteer program, you can get the honorable panda certificate and badge or other delicate souvenirs to keep your amazing and meaningful moments.
Information
Best Time: April to November
Recommended Visiting Time: About 1-2 days
Opening Hours: 08:00-18:00
Admission Fee: 58 CNY / Person
Address: Gengda Township, Wolong Nature Reserve, Aba Tibetan and Qiang Autonomous Prefecture, Sichuan, China