Chongqing Nightlife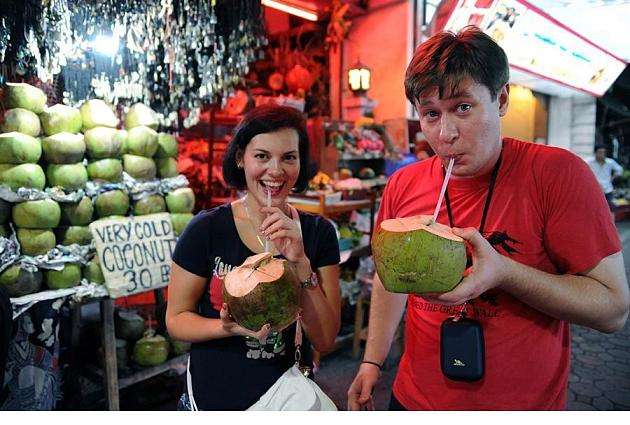 Overview
Chongqing's vibrant night life is no different from that of China's other thriving metropolises, boasting bars, movie theatres and dance clubs which bring the city alive in the evening hours. Tired of the usual tourist activities? Try one of the recommendations given below to get a taste of Chongqing's nighttime offerings.
Whether for dinner or for a late-night snack, hot pot is a must if you want to experience some local flavors. A booming business all-year-round, hot pot is a thriving local tradition in Chongqing. Come nightfall, hot pot restaurants and numerous sidewalk stands open for business. Adorned with strand after strand of colorful lights, hot pot businesses come in all different shapes and sizes. You will find that some are small, intimate shops, while others consist of only a few tables with umbrella covering for an alfresco dining experience. You can find these hot pot spots easily on many lanes and streets. On average, a hot pot dinner cost around CNY50 per person. The local Little Swan (Xiao Tian E) Hot Pot and Morals Village (De Zhuang) Hot Pot are highly recommended.

Once dinner is finished, enjoy a leisurely walk around the streets of Chongqing, a city famous for its nighttime scenery. For a superior view, make your way up to the top of South Mountain, where you will find a well-known sightseeing spot called "Yi Ke Shu", or in English, "A Tree". At this very spot, you will experience a splendid panoramic view of the entire city, including a view of its two bordering rivers in the waters of which the brilliant city lights are reflected. Take the No.384 bus from Jiefangbei commercial center and get off at Nanshan Station. There is an entrance fee of CNY10 per person.
After viewing the shimmering waters of the Yangtze and Jialing Rivers from South Mountain, you may also want to take a night tour aboard a cruise ship to view the city's night views. Fares for a 2-hour cruise tour range from CNY30 to CNY80 per person. Tours run from 7 to 10 o'clock in the evening and depart from the Chao Tian Men Dock.

What and Where To Do

Bars

Real Love Bar
Feature: the get-together place for the white collar
Recommended Alcohol: various kinds of red wine
Average cost per person: CNY180-200
Soho Bar
Feature: the most popular bar to make friends; calling the waiter by waving the candle on the table
Average cost per person: CNY70-100
Address: No.88 Jiao Chang Kou Road, Yuzhong District
Kuai Che Dao (fast lane) Bar
Feature: making friends through the telephone which is put on each table on the main hall
Recommended alcohol: Corona Beer
Average cost per person: around CNY50
Address: No C-9 Nan Bin Road, Nan'an District
Cafés

Starbucks Coffee (Minzu Road Branch)
Recommended coffee: Latte, Macchiato, Cappuccino, Frappuccino
Average cost per person: CNY35-50
Address: No.166 Minzu Road, Yuzhong District
U.B.C. Coffee (Diwang Square Branch)
Recommended food: Pasta, Spaghetti, Beef and Tomato Rice
Average cost per person: CNY40-60
Address: on the first floor of Diwang Square, No.166 Minzu Road, Yizhong District
C. straits Café (Jiefangbei Branch)
Recommended drinks: coffee, flower-fruit tea
Average cost per person: CNY40-50
Address: on the third floor of New York Mansion, No.169 Minzu Road, Yuzhong District
Teahouses

Yuan Yuan Yuan Tea Restaurant
Average cost per person: CNY20-30
Recommended Drink & food: Longan Milk Tea, Pineapple Shave Ice, Honey black tea, Mung Bean Milk Tea, Green Tea with Mint, Barbecued Pork Rice
Address: on the 5th floor of Hong Kong City, Beichengtian Street, Jiangbei District (at the opposite of Maoye Department Store)
Be For Time Tea House ( Shapingba Branch)
Average cost per person: CNY18 (unlimited drinks)
Recommended drinks: Icy Latte, Salt Lemon Soda, Lavender Milk Tea, Sundae Iced Coffee
Address: No.54 Tianchen Road, Shapingba District