Chongqing Transportation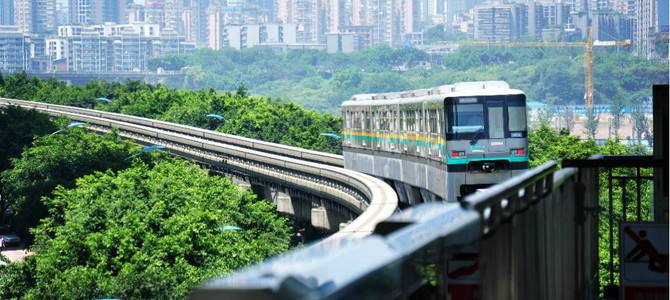 Overview
Chongqing is located in the central and western parts of China, railway, waterway, highway, aviation, pipeline and other transport mode develop rapidly. Chongqing is the only large city collects water resources, land and air traffic in the China's Yangtze River upstream region, and ti is one of the comprehensive transportation hubs in southwest China.
Airport
Chongqing Jiangbei International Airport
♦ Address: At the Lianglu Town of Yubei District
♦ Official website: http://www.cqa.cn/u/jichang/
Chongqing Jiangbei international airport was established on January 22, 1990, located in the Lianglu town of Yubei district that 21 km away from the northeast of Chongqing downtown. Jiangbei International Airport is one of the three civil airports in Chongqing. It is also the main base airport of Chongqing Airlines, West Air Co., LTD, China Express Airlines, and base airport of Sichuan Airlines, Air China and China Southern Airlines.

Rail & Metro

Chongqing Railway Station
Chongqing station, founded in 1952, officially put into operation on July 1, 1952, is located in Caiyuanba street no. 249 south road Yuzhong district in Chongqing. It is one of two major railway passenger transport hubs in Chongqing (the other is Chongqing North Station).Chongqing station is close to the Yangtze river, adjacent to the Caiyuanba bridge, people can take Chongqing rail line 1 and the rail line 3 to Chongqing Railway Station.
♦ Address: 249 Nanqu road, Caiyuanba, Yuzhong district, Chongqing
♦ Tel: (023) 61681111, 61681114, 63862607
Chongqing North Railway Station
Chongqing North Railway Station, commonly known as the Longtousi Station, located in Yubei District, Chongqing. On October 22, 2006 it was officially put into operation. It was governed by Chengdu Railway Bureau, is now the principal station at present. It is one of Chongqing two major railway passenger stations (the other is Chongqing Station) and Chongqing largest railway passenger stations.
Located near Longtou Temple at north, Chongqing North Railway Station has 3 layers, including 1 underground layer. It was decorated with glass curtain wall and light color material which made the outer appearance in silver. The whole construction area is 13121 square meters.
♦ Address: near the 51 Kunlun Avenue, Yubei District City, Chongqing,
♦ How to get: there are so many buses and railway lines to Chongqing North Station, like taking bus No.105, 138, 166, 841, BRT, 558, 616 to there and get off at Chongqing North Railway Station, or you can take Rail Line CRT3, CRT4, CRT10 to there.
Metro
Most tourist attractions in Chongqing are within a 15-minute walk from a metro station. When studying the map of Chongqing, however, keep in mind that in the hilly area of Chongqing, a metro station near a tourist attraction is not necessarily at the same height. In particular, Eling Park should only be approached through Line 1, since a system of escalators there compensate for the extreme difference in elevation between metro station and the grounds of the park.
hile there is still a bus network with good coverage in the city, using the buses is significantly more complicated because route maps and vehicles are labeled only in Chinese.

Taxis
The density of yellow taxis in Chongqing is amazing! At first, it is also quite remarkable that no bicycles appear on the road. However, this is most certainly due to the uneven topography of Chongqing, which precludes comfortable cycling and leaves only the option of riding a taxi for anyone without a car. The inexpensive taxi fare might explain their popularity, since the base price for the first three kilometers to 8 yuan, after which one pays 1.80 yuan per kilometer. There is a 15% surcharge on taxi fares at night. If you wish to avoid communication problems with the Chinese-speaking drivers, be sure to have on hand the hotel name and address, or the name of a landmark written out in Chinese characters.