Lhasa Transportation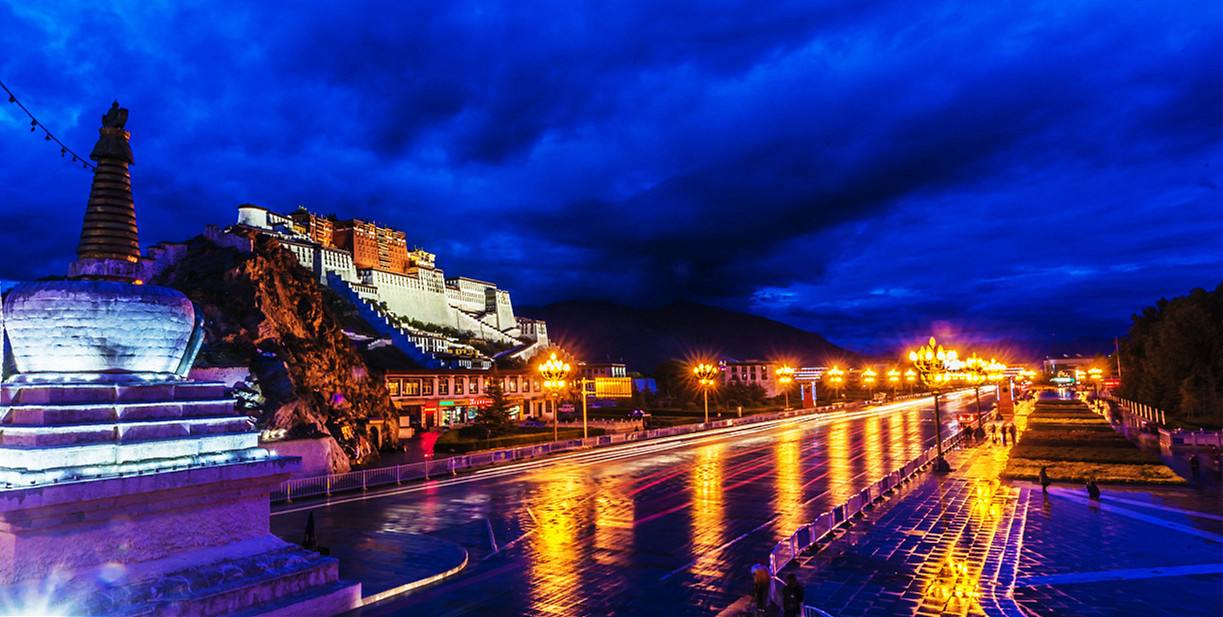 Introdution
Rail
Lhasa has been served by rail since 2006, when the Qinghai–Tibet Railway opened for passenger operations. Reaching an elevation of 5,072 metres above sea level, the Qinghai-Tibet railway is the world's highest railway by elevation. It connects Lhasa with Xining, the capital of Qinghai Province, some 2,000 km (1,200 mi) away, and ultimately links Lhasa with other major cities with China's extensive railway network. Five trains arrive at and depart from Lhasa railway station each day. Train number Z21 takes 40 hours and 53 minutes from Beijing West, arriving in Lhasa at 13:03 every day. Train Z22 from Lhasa to Beijing West departs at 15:30 and arrives in Beijing at 08:20 on the third day, taking 40 hours, 50 minutes. Trains also arrive in Lhasa from Chengdu, Chongqing, Lanzhou, Xining, Guangzhou, Shanghai and other cities. To counter the problem of altitude differences giving passengers altitude sickness, extra oxygen is pumped in through the ventilation system and available directly on each berth with close open control by a flap for convenience of passenger, and personal oxygen masks are available on request. Within the soft sleeper cabins there are 64 seats per train and are well equipped and have a socket to plug electronics. Lhasa is also connected to the second largest city in Tibet, Xigazê, by rail service, since 2014. A third railway, the Sichuan-Tibet Railway, which links Lhasa with Nyingchi County and into the interior ultimately terminating in Chengdu, began construction in June 2015.
For onward rail travel in South Asia, the closest major station in India is New Jalpaiguri, Siliguri in West Bengal. However, extension of the Indian railway system to Sikkim will make it easier for onward connections through the South Asian railway network. There are preliminary plans to link Lhasa by rail with Kathmandu.
As per a Chinese Tibetan spokesperson, extension of this rail line to Kathmandu with tunneling under Mount Everest is expected to be completed by 2020.
Air
Lhasa Gonggar Airport (IATA: LXA), built in 1965, is the aviation hub of Tibet. It is located south of the city proper. It takes around half an hour to get there by car via the Lhasa Airport Expressway; prior to the completion of the expressway in 2011, the trip to the airport took over an hour. As of 2014, there are daily flights serving major Chinese cities including Beijing, Chengdu, Guangzhou, and Shanghai, and there are also occasional scheduled services to Kathmandu in Nepal. Lhasa Airport is the hub of Tibet Airlines, which offers regional services to other destinations in Tibet such as Nyingchi Prefecture, Ngari Prefecture, Shigatse, and Qamdo.
Road
The Qinghai–Tibet Highway (part of G109) runs northeast toward Xining and eventually to Beijing and is the most-used road in Tibet. The Sichuan–Tibet Highway (part of G318) runs east towards Chengdu and eventually to Shanghai. G318 also runs west to Zhangmu on the Nepal border. The Xinjiang-Tibet Highway (G219) runs north from Lhasa to Yecheng, and then to Xinjiang. This road is rarely used due to the lack of amenities and petrol stations. A new 37.68 kilometres (23.41 mi), four-lane highway between Lhasa and the Gonggar Airport was built by the Transportation Department of Tibet at a cost of RMB 1.5 billion. This road is part of National Highway 318 and starts from the Lhasa Railway Station, passes through Caina Township in Qushui County, terminating between the north entrance of the Gala Mountain Tunnel and the south bridgehead of the Lhasa River Bridge, and en route goes over the first overpass of Lhasa at Liuwu Overpass.
Maritime
The closest seaport is Kolkata, India. The Nathu La pass offers Chinese companies access to the port of Kolkata (Calcutta), situated about 1,100 km (680 mi) from Lhasa, for transshipments to and from Tibet.