What to Eat in Guizhou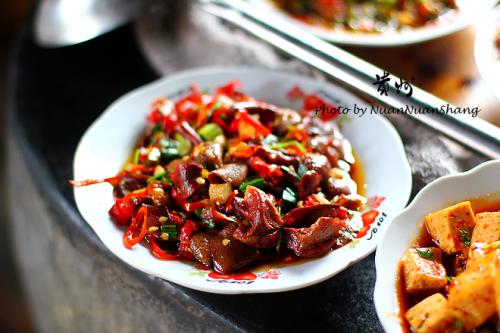 Overview
Guizhou cuisine (aka Qian cuisine) is one of the main cuisines in China. More than 250 popular dishes, mostly spicy and hot well present its diversity and complexity. With bright color and beautiful shapes, Guizhou cuisine is also regarded as the fine art work for appreciation. You can taste every Qian-flavored dish in Guiyang City.
Special Flavored Shredded Chicken

material: Chicken/200g
Seasonings: salt, ajinomoto (monosodium glutamate), ground pepper powder, sesame oil, sesame, oil pepper, ginger juice, soy sauce, vinegar, sugar, Litsea pungens oil, zanthoxyum oil, scallion, garlic spread and broth etc.
Features & flavors: the chicken tastes tender and with very strange flavors
Grilled Crucian Carps with Scallion
Materials: 5 crucian carps/500g; scallion/100g
Seasonings: soy sauce, vinegar, sugar, ajinomoto, ginger, glutinous rice wine, water thickening and salad oil etc.
Features & Flavors: the fish tastes fragrant, sweet and crisp
Chicken Covering the Squid

Materials: squid/300g;Fresh Grade Breast/150g; pig fat/50g; 4 eggs,heart of the green chinese cabbage/100g; soup-stock/200g
Seasonings: salt,ajinomoto,ground pepper powder,dry thickening, chicken fat,egg white
Features & Flavors: the meat is tender and soft, delicious in taste
Steamed Pork with Preserved Vegetable

Materials: streaky pork/500g; preserved vegetable/200g
Where to eat in Guizhou, Guiyang

For more details at Guiyang Restaurants page.